News, Updates and Latest Information
Street Dance comes to the Balmoral Centre!
To complement the Street Tough Challenge 2011 we were delighted to welcome Street Dance to the Balmoral Centre, with ace choreographer Kinner Patel and dance teachers from Just Imagine! 
Kinner's Dance has become such a popular feature on the Balmoral calendar that it is no longer linked to the Street Tough Challenge and can be enjoyed by everyone. 
All forms of Urban Dance – Street Dance, Breakdance, Hip-Hop and lots more!
Open to all young people aged 8-18 years.  Thursdays 7:15-8:15 pm, and Sundays 3-4 pm.
For further information and details of session charges payable, contact Kinner Patel on 07980 297036. 
Street Tough
Sorry, Street Tough is not accepting new members.  However, information about hugely EXCITING DEVELOPMENTS is available from the Centre Manager on 01702 351030 or email to office@balmoralcentre.com!
 Our grateful thanks to:
Linda Massarin, Catering Manager, Milton Hall School (for the wonderfully tasty healthy food!)
Maureen Edwards, volunteer
Rob Lawrence of Morbec Sports (for the club shirts)
Rotary Club of Westcliff (for the fleece jackets and ongoing support)
Volunteers from the Balmoral Centre Management Committee
Trolley Dash For Charity
Tickets were sold by Southend & District Soroptimist Club to raise funds for their year long President's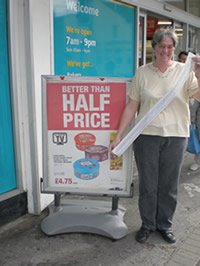 project, The Balmoral Centre in Westcliff. President of Southend Soroptimist, Janet Reynolds said "I chose The Balmoral Centre for our fundraising this year because I was very impressed by the work that has been done there.  The Centre has been turned from a near derelict building into something that the local community can be proud of.  They still need funds to complete their work.  They run programmes for children including the Street Tough Challenge, promoting healthy lifestyles, fun exercise, promoting self-esteem and self-confidence, especially amongst young girls, and our money will help."
The Balmoral Centre works hard to support the community in this neighbourhood, where the residents now come from a range of different cultures. The Soroptimist Club in Southend on Sea is quite small – only 30 members – but as well as fund raising, they are an active campaigning group, who work to support women and girls. They work with a number of local organisations including women's refuge. On a national scale they are involved in a campaign to abolish violence against women and to eliminate trafficking.  If you would like to know more about the work of Soroptimists locally, visit the club website at www.soroptimist-gbi.co.uk/southend-on-sea-and-district  or the national website at www.soroptimist-gbi.co.uk
Please note !
Registered Charity

We are delighted that our application for registration as a charity has been accepted by the Charity Commission with effect from 16th November 2010, so the Balmoral Centre is now officially a charity, and our registration number is 1139045.

Announcement

Our Centre Manager Trisha Whelan can be found in the office most mornings Monday-Friday between 9 am and 11:30 am – and most days even longer (especially when we lock her in!) If she has escaped, please use the email contact form here or leave a message on the Centre's Booking and Inquiry Line on 01702 351030 and she will get back to you as soon as possible.

Videos

We have now added a list of links to videos you may find of interest here.